60 feet tall; a discontinued jazzy/rockabilly rhythms with the so cruel and shameless voice of Allison...just play it!
Insomniac...
worse thing about it is the more I close my eyes while trying (in vain) to sleep, the more I think ,the more I regret my acts...However,the good thing is that I get more time to read.At least, incarnating a personality among the fictitious being am reading about is better than filling my head with remorse.
the must-read in the near future (that you probably should take a look at,people) :
-
La Bibliothèque de Babel - Jorge Luis Borges
"
La Bibliothèque de Babel est une nouvelle se trouvant dans le recueil Fictions de l'écrivain Jorge Luis Borges. Il s'agit d'une bibliothèque de taille gigantesque contenant tous les livres de 410 pages possibles dont toutes les salles hexagonales sont disposées d'une même manière. Les livres sont placés dans des étagères comprenant toutes le même nombre d'étages et recevant toutes le même nombre de livres. Chaque livre a le même nombre de pages et de signes écrits au hasard; l' alphabet utilisé comprend toujours vingt-cinq caractères. On peut donc dire que la Bibliothèque contient tous les ouvrages qui ont déjà été écrits ainsi que tous les autres, parmi un nombre immense de livres sans aucun contenu lisible (puisque chaque livre peut n'être constitué que
d'une succession de lettres ne formant rien de précis dans aucune langue). Celle-ci est habitée par une race d'hommes qui ne connaît que ce monde, à la recherche du livre ultime, d'une révélation ou de la Vérité."
-Les Chants de Maldoror- Comte de Lauréamont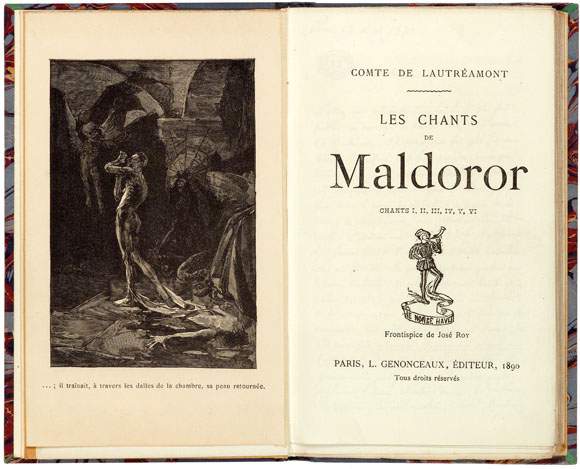 - The divine comedy- Dante Alighieri
Am actually open to hear your recommendations.
++